Kappa Kappa Gamma Houston Alumnae Association
Welcome
Our Houston Alumnae Association has a membership of women ranging from 22 to 90+ years old from more than 120 different chapters throughout the United States and Canada. We promote longevity of Kappa values in all aspects of our lives by encouraging participation in our many different programs, which cater to all interests and annual philanthropic events. Membership in Kappa shouldn't end at graduation! Our vibrant Alumnae Association offers a wealth of opportunities to continue the sisterhood of Kappa Kappa Gamma.
We are now accepting dues for the 2018-2019 year!
---
Click here to register for Founders Day, Wednesday, October 18, 2018!
---
Welcome Back Event for All Kappas of All Ages
Wednesday, September 19, 2018 6:30 – 8:30 p.m.
Crime Stoppers Community Room, 3001 Main Street
(One block north of Elgin, parking entrance is on Rosalie or across Fannin if lot is full)
Chairs:
Hope Young
and
Joan Ounanian
Dress: casual and comfortable; carpooling is recommended
Dinner: $15; no charge to the Night Owls
WHAT IS YOUR COLOR? UNDERSTANDING YOURSELF AND OTHERS
"When you know what your core values and needs are and feel good about them, you can perform at your highest potential in every area of life. And when you share a working, mutual understanding of others' core values and needs, you have the basis to communicate, motivate, and achieve common goals with utmost dignity, efficacy, and mutual respect." Don Lowry

Jane Sangalis, who was a trainer at Kappa Leadership Academy, will facilitate a short personality test called "The True Colors Quiz" that places each person into one of four colors. Everyone breaks out to meet by color and have a short discussion and then each group chooses a spokesperson to share what they concluded about themselves. Jane will discuss each color's strengths, weaknesses, and leadership styles and how each color is needed to add value to a team. This activity will enhance your life at home, work and all of the relationships you encounter as a volunteer.
---
Writing a Reference Fall 2018 & Spring 2019
Click here for more information on submitting Kappa Kappa Gamma references for Potential New Members (PNMs) for spring recruitment.
---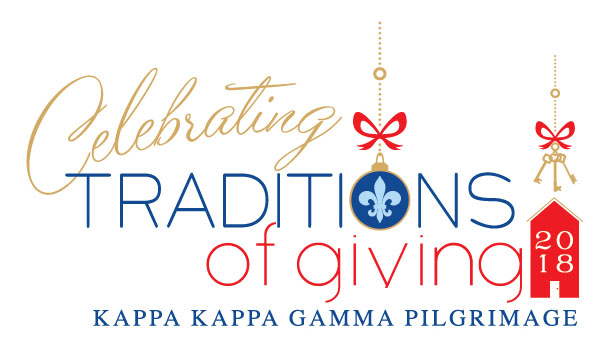 Kappa Kappa Gamma 2018 Pilgrimage
Preview Party
Thursday, December 6, 2018
Home Tour
Friday and Saturday, December 7 & 8, 2018

Click here
for more information, ticket sales, and to donate to or underwrite Pilgrimage 2018!
---
Kappa Events
Get the latest information on all our upcoming events on our calendar. General meetings, board meetings, interest-group events, committee meetings, and foundation happenings--it's all there for you!
Check out photos from all of our recent events in our galleries! Members can log in to view photos from such events as the Holiday Luncheon, Holiday Tea, and Kite and Key, as well as general meetings, Night Owls get-togethers, Play Dates in the Park, philanthropy events with the Epsilon Rho chapter, and much more.
Alumnae Membership
If you are new to Houston and would like to learn more about joining our Alumnae Association, please visit our Join page.
If you are already a member of the Houston Alumnae Association and would like to pay your alumnae membership dues for this year, you may do so here by visiting our "Pay Member Dues" page.
Please note, you must pay your 2018-2019 dues by July 1, 2018, to be included in the website.
Members who have not paid their 2018-2019 dues will only have access to the website only until July 15. After July 15, only valid dues paying members will have access to the member side of the website.
Member login
Houston Kappas, please log in above to access the members-only sections of the site. Your username is the first letter of your first name, followed by your last name, and your password is your Kappa member number. This number appears above your name on the label of The Key magazine, or you may call headquarters at (866) 554-1870 to request it. Your member number should be entered with a hyphen and no preceding zeros. Any trouble? Email us.